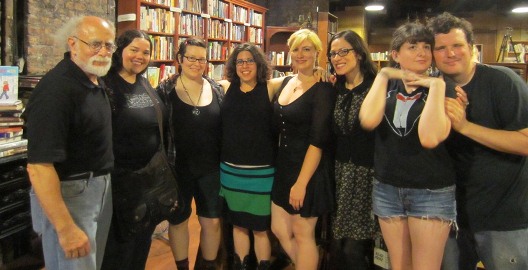 In this picture, from left to right
J. Weintraub, L.A. Fields, Cortney Philip, Mackenzie Wilson, Gibson Culbreth, Cynthia (cina) Pelayo, Melanie Hanson, Jordan Scrivner
This past July, Friday the 13th, Burial Day Book hosted a Campfire Reading at Uncharted Books. Many wonderful writers read their work. This is a sampling  of stories from that evening.
Biographies of the Sampling
Gibson Culbreth is a girl named after a guitar. She is the editor-in-chief of a small up and coming zine called "I Feel Pretty" (http://ifeelprettyonline.com/) and her works have appeared in the Molotov Cocktail, WritingRaw and Down in the Dirt Magazine. When not working on her novel she spends her time slinging coffee and playing with puppies. Recently she spent six weeks in Prague, and she thought that was pretty damn cool.

M. N. Hanson is a postmodern deconstructivist, an aspiring astronaut, a proponent of the Oxford comma, and a recent graduate of the School of the Art Institute of Chicago with an MFA in writing. Please visit http://mnhanson.com/ to complain.
Cortney Philip writes fucked up fairy tales for grown-ups who aren't.
Mackenzie Wilson's work has appeared in the Logan Square Literary Review. She write flash fiction and a little bit of poetry. Her tumbler, ChicagObservations (http://chicago-observations.tumblr.com/) contains her writings about weird things she sees around the city.
Click here for a PDF of Campfire Stories.