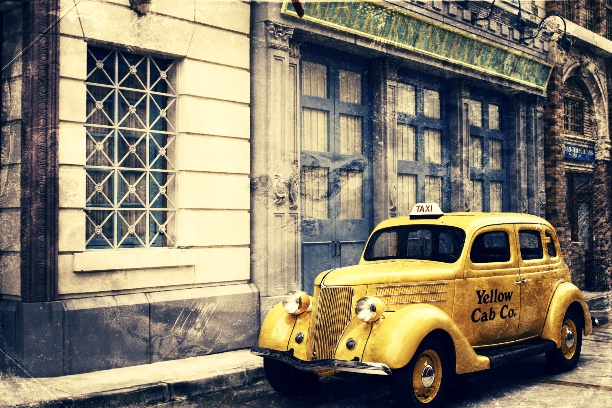 Gerin is not entirely sure where he's going, or even why he's going there. When he arrives at a strange town he learns of an even stranger pageant.
By: Mark Slade
Mark Slade lives in Williamsburg, VA with his wife and daughter, a Pomeranian and a Chihuaha. The Town Pageant is his first published story. For more about Mark Slade visit http://bloodydreadful.blogspot.com/.
Click here for a PDF of The Town Pageant.
The Town Pageant
By: Mark Slade
Gerin was confused and tired. He needed some rest. He was standing at the exit of the train station, not really sure why he was there, or why he was traveling. He remembered almost nothing about his past, knew nothing of his future. He only knew he needed to reach the town of Vandy, and that he needed some rest.
He stood at the exit of the train station.  He was a mustached, balding man. What little hair he did have was parted in an antiquated school boy fashion. Yet, his face was that of a man who had seen many days. His suit was as gray and bland as him as well as the bright blue tie that rested on his chest.
A young man in a white tunic and pale green slacks was handing out pamphlets. On the cover of the pamphlet was a black and white drawing of Jesus in a cape and tights, laser beams shooting out of his fingertips directed at the White House. The ideals in those pages he held gave warnings to people to stock up on food and arm themselves because in the days leading up to Jesus' return, the world would be savage. The young man saw Gerin walk past. He looked like a dear old man, almost like his grandpa, and he knew immediately that this man was a lost one
"I think I should give this to you," the young man said to Gerin
Gerin's eyes were kind, and a shake of his head was followed by a "No, thank you." He was searching for a free cab, but they were being snatched up quickly by fast moving passengers leaving the station.
"You look lost, mister. I can help!" The young man shouted after Gerin.  "Jesus, our Lord and savior, champion of the universe, will take good care of all his children…"
Gerin turned around and the young man trembled at what he saw. The old man, with the kind eyes just moments before now had no real eyes in his sockets. There was just a milky black void.
The young man dropped the pamphlets to the floor, all of them scattering about and being pressed by the shoes of travelers. He backed away slowly at first. Then turned and ran as fast as he could.
It took some time, but Gerin eventually found a free cab parked a few feet away from the newsstand behind the train station. He rushed to it as quickly as he feet allowed, hoping that no one would beat him to it, and no one did. People kept jumping into other cabs nearby instead, luckily.
He opened the rear left passenger door and slid in on the noisiest vinyl covering he'd ever come across. The cab driver was in the middle of his lunch. A messy hamburger where the sauce sat comfortably on his chin. "I'm not on duty," the Cabbie said, spitting out chewed bun on his shirt. He casually wiped it off. He was looking at Gerin in the rear view mirror.
Gerin sighed heavily. He was tired and needed rest. "Look, I really need a ride into Vandy. I'll pay double the rate."
Double the rate, the cab driver thought.  He finished his burger in one large bite. He then laughed, because no one ever voluntarily asked to go to Vandy. "My God, friend. No one ride's into Vandy. It's a good fifty-six miles from this train station. It's also the most boring town in America."
"As you say, sir, I just need a ride there is all. It includes the tip." Gerin avoided the Cabbie's gaze in the mirror. He was tired from his train ride from, well, he still wasn't sure yet where he had come from. He only knew that he needed to get to Vandy, and surely by the time he got there it would all make sense, he hoped.
"It would have to, friend. On top of the fare and double the rate." He started the engine and the cab coughed and spat out a dark cloud of fumes that nearly choked Gerin. "And away we go." The Cabbie said in a sing-song voice. They drove for miles and miles, through hills and farms and past blank faced cows that stood still, their eyes the color of the black hole watching them pass.
"For you to pay this amount of money, not rent a car, must be pretty important to get to Vandy,' the Cabbie said.
Gerin thought a moment. He kept his eyes on the scenery. "Yes, I suppose it must be."
The Cabbie waited a few minutes. He laughed, looked in the rear view mirror. "Why the hell didn't you rent a car, friend?"
Gerin breathed through flared nostrils. "I can't drive," he said.
You're kiddin', at your age?" The Cabbie turned around briefly to see Gerin's reaction.
"Business there?"
Gerin thought again. His eyebrows lowered. "I'm not sure why I'm going there," he said softly. He saw a pair of confused eyes in the rear view mirror. He looked away. "Yes, business. I'm just tired. That's all."
The Cabbie felt the iciness of Gerin's voice. He shrugged and said, "I understand friend. I understand."
The ride was a long one for both driver and rider. Still, almost any conversation would end with a false start. The jazz that came from the radio annoyed both. Each time the driver would turn it back on, he would turn it off as soon as another jazz tune blared.
After two hours through back country roads, they reached Vandy. The cab pulled into an idyllic town reminiscent of the place where TV families of 1950's American programing lived. There were large framed houses framed by pristine and neat green lawns, and then there were the clean orderly streets and a sweet town square lined with simple shops.
The Cabbie was visibly excited as they pulled in. His scowl had faded into a large smile. "Man, I haven't been here in years," he said as he leaned and looked out his window.
They pulled into the parking lot of the only hotel in town. Gerin paid the driver who then slid the bills in a cigar box under his seat.
"Hey, you know mister, you're not too bad. You're a real nice guy. I'll see you around," he said before departing.
Gerin walked into the lobby of the hotel. A lively conversation was halted as soon as he entered. A group of elderly people dressed in black suits and dresses parted in the middle for him to pass. He stood beside the desk and waited for the two clerks to acknowledge him. One clerk, a woman with black hair fashioned in a bee hive looked at Gerin as if she'd seen the taxman at her doorstep. The other clerk, a man dressed in a black tuxedo, had large, bugged eyes.
"Excuse me," Gerin said.  "I need a room."
There was a snicker behind him.
The clerks exchanged looks and then the male clerk stepped forward. "I think you need to be invited first, sir."
"But, I just would like a room. That's all," Gerin said. He was frustrated not because of the blank stares but because of his blank mind. He still could not clearly say why he had come here and all he wanted was a room to rest.
The people in the lobby exchanged knowing looks. There were whispers now. The male clerk finally said. "I'm afraid I haven't any rooms available, sir."
"But, isn't this the only hotel in town? Really, there must be something?" he pleaded.
"It's actually our busy period. You see, we have a town pageant today, sir. Folks from the adjoining counties are also here for the occasion. We have them quite often."
"I wasn't aware." Gerin said. As he left the hotel, he glanced back. The circle of elderly folks was all staring at him. One woman had her head bowed, and it appeared as though she was mouthing a silent prayer.
He had no idea where to go next, and so, he just walked. He approached what appeared to be the courthouse, a gleaming white structure. Then, he passed rows of cafes and a malt shop. There was even an old-fashioned barber, with a rotating red and white barber pole. It was quiet until he approached a drugstore, where four men were sitting outside in wicker chairs. All wore a black suit, but one wore blue.
"Going to be another lovely pageant," one wearing black said.
"Just like yesterday's I expect," the other man in black replied.
The man in blue nodded and lit a cigar.
"Excuse me, gentlemen," Gerin stepped toward them. They exchanged uneasy looks. It was rare when they received an uninvited guest. It could happen, but it was very, very rare.
"Could any of you point me in the direction of a bed and breakfast?"
"What in the hell would you want with a bed and breakfast?" the one in the blue suit said, in a shocked tone.
"That's a silly question," Gerin fired back. "A bed of course."
One of the men in black elbowed the man in the blue suit and told him to shush and then he told Gerin "I'll tell you, son, where you could try…"
Son, Gerin thought. He was likely older than all of these men.
The man continued. "I don't think Halley will give you a room, but go on up there and try."
The other men opened their mouths as if to tell the man speaking to Gerin something, but he waved them off. He then stood and pointed. "Go a ways two blocks up this road. You see a sign for Lafferty Ave. Take that. The third house on the left. You'll know her house. She's got a sign that says Halley's place."
He thanked them and went on his way, feeling their eyes burrow into him.
Gerin knocked on the door of a quaint two story house that was painted powder blue. The curtains in the front room moved slightly and then were placed back carefully. The door opened and a woman in her early fifties, dressed in black, appeared smiling.
"I'm sorry, but I think there must be some mistake. The pageant is starting soon." She stepped back and tried to close the front door.
Wait!" Gerin caught the door with a hand. "Please! I'm tired and need a room."
"I'm sorry, I really am, but I have no rooms. Perhaps just head down to the pageant when it starts."  She then shut the door abruptly.
It all made no sense to him. He had come this long way, and he still was not yet sure why, but he knew this is where he needed to be, but no one seemed to help him.
"What's a matter, friend? Can't get a place to stay?" Gerin looked up and it was the Cabbie that brought him to town, his car was idling in front of the house.
Gerin smiled. He was tired but glad to see a familiar face, considering it had been the only familiar face, it seemed, he had seen in some time. "It seems I rub people the wrong way."
"Nah! It's pageant day. People just get a little strange right before, that's all."
He walked up to the cab and leaned in, resting his arm on the side mirror. "You haven't left yet?"
"I'm enjoying this place. I don't come out here too often. The people are friendly and the food here is wonderful. Come with me and I'll get you some food and a room."
As the Cabbie drove off he asked "You remember anything yet?"
Gerin looked at him surprised. There was no way the Cabbie could have known that he could not remember. He could then only break down. "No. I don't remember. I looked in my wallet," he said pulling out the leather wallet and flipping through it. "It says I live in Santa Barbra, but I don't remember! I just, I just don't remember."
The Cabbie pulled over and stopped the car. He took the wallet from Gerin, looked at the driver's license and read "Jon Gerin, 5504 Furoh Dr, Santa Barbra, CA." He flipped to a photograph. "Looks like this is your wife." There was a wedding picture of what appeared to be a younger Gerin holding hands with a young blonde woman dressed as a bride. He was the groom. "No pics of any kids..but one of a Great Dane. You really don't remember anything? Job? Parents? Where you grew up?"
Gerin shook his head.
"The Town Pageant is starting. Why don't we just go give that a look." They drove to the square, parked and then strolled over to the town center. What was a few moments ago empty was now full of hundreds, if not thousands of people, all dressed in black. They were all smiles and were waving and cheering at something he couldn't see.
They found a place in between some onlookers and they listened as the brass band music roared through the square. "Come," the cabbie shouted. "We can get closer." They pushed through a few people and as they did, Gerin felt hands pat him on his back and people shout out "Welcome," "Congratulations," and other celebratory phrases that all seemed to be directed to him, but they couldn't be.
When they got to the very front, Gerin saw it, a black hearse being pulled by four mighty black horses. The driver of the carriage was dressed in a black tuxedo, a fresh top hat sat firmly atop his head, and in his crisp, white gloved hands he held the reigns. The onlookers were cheering and singing and tossing white lilies at the foot of a woman in a black funeral gown who walked solemnly behind the hearse.
"Ain't that something, friend? Right out of a PBS drama or something, huh? Reenactment of some kind of old-fashioned-type funeral, huh?"
When Gerin turned to ask the  Cabbie what it was he was talking about he saw that the man was gone.
It seemed as though everyone now was looking at him, clapping and directing him over to the hearse. He marched through the crowd and headed straight for the woman behind the hearse. When he reached her, he removed her black veil, and stood back in shock. The crowd roared. It snowed lilies. The driver of the carriage whistled and the horses stopped. Gerin peered inside of the window of the hearse now and there he saw, and it all finally came back to him, his life, his illness and his death. It was like a mirror looking back at him. He was standing here, yet he was lying there in the velvet lining of a glass coffin. His arms were folded across his chest. He looked so peaceful there, resting, finally resting.