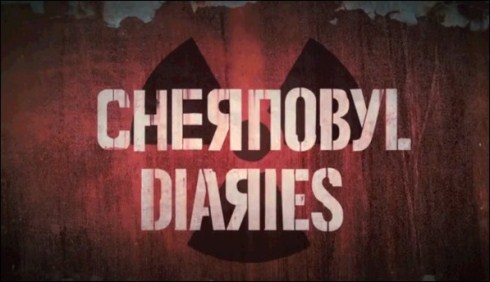 The Undertaker and I have been quite busy as the summer months bring about increased activity. The grounds must be kept watered continually, and as you can imagine, working outdoors during high temperatures tends to drain one's energy.
Yesterday evening, we had planned an outing to the cinema to see Casablanca at this lovely movie theater nearby restored to its near 1915 condition.  Unfortunately, due to being so overwhelmed with work, our dates were wrong and next weekend is indeed the weekend where they will be showing the black and white masterpiece. However, as we were already there, we opted to see another film, Chernobyl Diaries. Now, the reviews for the film have been poor and therefore, I chose to originally stay away, but as that was the next screening we decided on seeing it.
The plot for Chernobyl Diaries is quite simple: A group of friends visiting another friend in Europe decide on doing something interesting – partaking in an extreme travel tour of Chernobyl. For those unaware,  in 1986 reactor number four of the Chernobyl Nuclear Power Plant in Ukraine experienced a failure during tests  that led to several explosions. The explosions led to the immediate deaths of dozens and the evacuation of thousands. Continued deaths from radiation exposure are estimated to reach into the thousands.
In Chernobyl Diaries, while visiting the town of Pripyat, where the nuclear power plant was located, members of the tour begin seeing strange things, and then, they become stranded due to car trouble. Then, one by one, they begin to go missing. The film is formulaic, at best, but does deliver the occasional jolts. What I found most interesting about the film is that while watching it I began to think about places I have visited where I felt that things just felt a little off because the environment was either inhospitable, or because I was genuinely concerned for my safety because I was unsure of where I was and of the people around me. I am admittedly paranoid around the living, especially when traveling as you are unaware of your surroundings.
Legends abound of people never being seen again after having car trouble and seeking help, of travelers going missing on road trips or hiking trips, or of travelers disappearing completely while on vacation, sometimes within moments of interacting with someone they knew or speaking to friends or family on the telephone.
In text and film, horror creates anxiety about unknown environments as well as unknown people.  The horror narrative perhaps explores human hesitancy with going off the beaten path, or stopping at that aged gas station miles from the nearest person, or the strangeness of interacting with a stranger because – people are often afraid of the unknown, unknown places and unknown people. People strangely due disappear, each and every day, from the rebel Spartacus who went missing in 71 BC, to The Roanoke Colonists, one of the original groups of colonists of the United States, who all disappeared in 1590, to famous aviator Amelia Earhart.
Chernobyl Diaries did have me revisit all of those strange moments I have felt driving along rural roads in the southwest at pitch black night, getting off the plane in a foreign country and moving about from place to place with very few people knowing my exact locations, and even partaking in my own odd tours abroad visiting far-off towns and sights. One never really knows of the security of their own routine let alone when one breaks that routine for risk.
However, we all must continue to live and move about the world. I'll just continue to do so with a lasting pang of fear.
-Gravedigger